Home
 The Cleveland County Historical Society Welcomes You!
The CCHS recently sponsored two of the four new Arkansas Historical Markers placed in the county that tells the stories of Johnny Cash and his family history in the county and his many return visits here over the years.  Below is a link to each of the Johnny Cash Markers.
Johnny Cash Birthplace Marker
https://www.hmdb.org/m.asp?m=170307
Johnny Cash Return Visits to Kingsland
https://www.hmdb.org/m.asp?m=170310
Johnny Cash 1976 Bi-Centennial Concert
https://www.hmdb.org/m.asp?m=170305
Johnny Cash and Family Reunions
https://www.hmdb.org/m.asp?m=185709
The link below is to the Research of the Arkansas Genealogy Project. This site provides historical information about Cleveland County and its people.

 
http://www.argenweb.net/cleveland/site-map.htm
Johnny Cash and The Cleveland County Historical Society (CCHS).  The CCHS was formed in 1974 with its primary focus on preserving the history of Cleveland County and its people.  One of our first and largest undertakings was to support 1976 Bi-Centennial activities in the county that included a special day of events when Johnny Cash returned to his birth county in March 1976 for a day of celebration.  The day's special events started at Kingsland where he was born. He then boarded a train on the Cotton Belt Line and rode from Kingsland to Rison where he served as Grand Marshal of the parade through downtown.  The day concluded with a Johnny Cash Concert at the Rison Football Field.  After the concert Johnny Cash made a large contribution to the CCHS that was some of our seed money that helped in underwriting our numerous books, journals, and events.  Below is the link to the KATV Channel 7 Archive of that day that is maintained by the David and Barbara Prior Center for Arkansas Oral and Visual History at the University of Arkansas.  Also below are a few photos of that days events from the Cleveland County Herald's March 1976 Special Edition that is preserved in our library.
https://www.facebook.com/pryorcenter/videos/950777371600270/?__so__=channel_tab&__rv__=all_videos_card
Governor David Pryor's March 1976 Proclamation (the original)
(Click on photos to enlarge)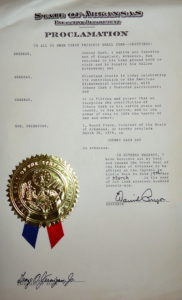 Part of the morning events at Kingsland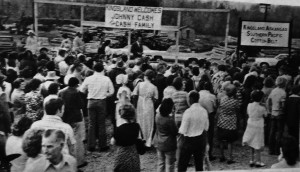 Boarding the Cotton Belt for the ride to Rison
The Parade through Rison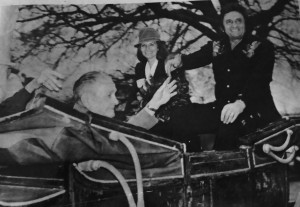 The Johnny Cash Concert